October 26, 2020
Semiconductors Are China's Choke Point
The rule of thumb in the semiconductor industry--Moore's law--states that the number of transistors on a microchip doubles every couple of years. That figure, improbably, is headed into the trillions. Meanwhile, the tally of companies that can afford to keep pace with the investments necessary to pile all those transistors on to a silicon wafer has moved just as dramatically in the opposite direction ...
Bloomberg
Defect Challenges Grow For IC Packaging
Several vendors are ramping up new inspection equipment based on infrared, optical, and X-ray technologies in an effort to reduce defects in current and future ...
Semiconductor Engineering
MEMS Packaging for High Volume Products
MEMS, an enabling technology opening new applications, such as the IoT, wearable technology smart devices, autonomous vehicles and automotive industry. ...
Technical Paper
Week In Review: Manufacturing, Test
Intel posted mixed results in the quarter, and also cut its capital spending. "Intel's updated CY20 capex guidance to $14.2-$14.5 billion, from prior view of $15 billion. ...
Semiconductor Engineering
SK hynix to benefit from Intel deal in long term
SK hynix Inc.'s acquisition of Intel Corp.'s NAND memory business will bring positive results to the company, analysts said, as it can beef up profitability and technological ...
Yonhap News Agency
What's Ahead For Chips & Equipment?
It's been a topsy-turvy year in the semiconductor industry. 2020 was supposed to be a strong year. Then, the coronavirus outbreak hit. Countries implemented ...
Semiconductor Engineering
Test Your Knowledge

What is the Gulf Stream?
See answer below.
Quote of the Day

"To succeed as a team is to hold all of the members accountable for their expertise."
Mitchell Caplan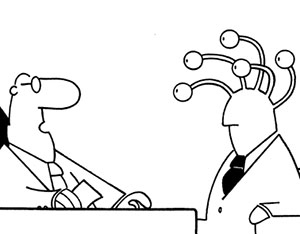 "I'd like you to lead a seminar on The Power of Focus."


Copyright © Randy Glasbergen
Test Your Knowledge Answer

What is the Gulf Stream?
Answer: Gulf Stream is a warm and swift Atlantic ocean current that originates in the Gulf of Mexico and stretches to the tip of Florida, and follows the eastern coastlines of the United States and Newfoundland before crossing the Atlantic Ocean.