What Year Was It?
The First Supreme Court
The Judiciary Act is passed by Congress and signed by President George Washington, establishing the Supreme Court of the United States as a tribunal made up of six justices who were to serve on the court until death or retirement.
The day was Sep 24. What year was it?
Package Converter Compliments Chip Obsolescence
The Semiconductor industry enabling today's electronics market place is widely disseminated between multiple customer factions: consumer electronics, telecommunications ...
Technical Paper
Have Processor Counts Stalled?
Survey data suggests that additional microprocessor cores are not being added into SoCs, but you have to dig into the numbers to find out what is really going on. ...
Semiconductor Engineering
How Huawei grew to dominate the world
From its earliest years, the telecommunications equipment industry has been considered strategic by the governments of highly industrialized countries. As such, national ...
Asia Times
TSMC Warns China-U.S. Deleveraging Will Drive Up Costs
The deleveraging of China-U.S. supply chains and protectionism on both sides of the Pacific will only drive up costs and limit the flow of ideas, the chairman of Taiwan Semiconductor Manufacturing Co Ltd said. The Trump administration has limited supplies to Chinese tech firms like Huawei Technologies Co Ltd, viewing them as a security threat, and is encouraging U.S. factories in China ...
Reuters
Top-10 semiconductor suppliers continue to grow in 2Q20, says Omdia
Building on bullish growth in first-quarter 2020 in weak market conditions, the world's top-10 semiconductor suppliers managed to continue their revenue growth at a ...
Digitimes
TSMC to build 2nm wafer plant in Hsinchu
Taiwan Semiconductor Manufacturing Co. (TSMC) said it will build a sophisticated 2 nanometer wafer plant in Hsinchu. On the sidelines of a technology forum held at ...
Focus Taiwan
Taiwan tech alliance steps up AI chip development
A fingerprint identification chip for large-area in-display sensing applications co-developed by Taiwan-based Egis Technology, eMemory Technology and Innolux is ...
Digitimes
Industry Expert Q&A - The Key to Chip Security: Trust and Verify! But How?
Even though microchips continue to get smarter, vital security gaps continue to be exposed through such hack attacks as Meltdown, Spectre, and in recent weeks, Plundervolt. ...
SEMI
IC Packaging Technologies Contribute to Smaller, Faster, Cheaper Electronic Systems with Longer Battery Life
During in-person and on-line meetings, I often discuss with friends the impressive progress our industry has made in the last 50 years following Moore's Law. In 1981, ...
3DInCites
Test Your Knowledge

What is the fourteenth letter of the Greek alphabet?
See answer below.
Quote of the Day

It is a common experience that a problem difficult at night is resolved in the morning after the committee of sleep has worked on it.
John Steinbeck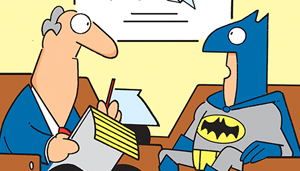 "I'm convinced that all corporations are evil, but Bruce Wayne says free market capitalism is the only thing that can save the world."


Copyright © Randy Glasbergen
Test Your Knowledge Answer

What is the fourteenth letter of the Greek alphabet?
Answer: Xi