Nov 12, 2018
Design For Advanced Packaging
Advanced packaging techniques are viewed as either a replacement for Moore's Law scaling, or a way of augmenting it. But there is a big gap between the extensive work done to prove these devices can be manufactured with sufficient yield and the amount of attention being paid to the demands advanced packaging has on the design and verification flows. Not all advanced packaging places the same ...
Semiconductor Engineering
Week In Review: Manufacturing, Test
SEMI has voiced support and encouragement for trade discussions between U.S. President Donald Trump and the People's Republic of China President Xi Jinping. The talks ...
Semiconductor Engineering
Startup Beats Samsung in Foldables
Samsung grabbed world headlines on Wednesday when it announced plans to ship a foldable smartphone sometime next year. But a little-known rival was actually first to ...
EE Times
Test Your Knowledge Answer

What was the first man-made satellite put into orbit?
See answer below.
Quote of the Day

"If lawyers are disbarred and clergymen defrocked, doesn't it follow that electricians can be delighted, musicians denoted?"
George Carlin
What Year Was It?
Ellis Island Closes
Ellis Island, the gateway to America, shuts it doors after processing more than 12 million immigrants since opening in 1892.
The day was Nov 12. What year was it?
Cartoon of the Day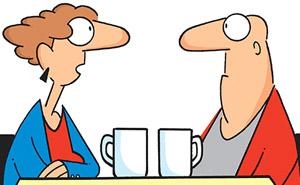 "I can't believe my boss is such an idiot. I thought he was brilliant when he hired me!"


Copyright © Randy Glasbergen
Test Your Knowledge Answer

What was the first man-made satellite put into orbit?
Answer: Sputnik 1