March 7, 2014
Circulation Over 35,000
Test Your Knowledge
What's the Arabic answer to the Roman subtraction M minus IX?
See answer below.
Cartoon of the Day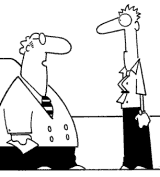 "I'm transferring you to another office, Dave. Many of us are on a low-carb diet and you look like a french fry."
Copyright © Randy Glasbergen
A Flexible Test Strategy for 3D ICs
The semiconductor industry is ramping up for the wider adoption of 3D ICs, which promise better performance, reduced power, and improved yield. While some aspects of true 3D ICs are still evolving, solutions for testing 3D ICs are ready today. The test strategy for 3D ICs has two ...
EE Journal
Growth in global tablet shipments to slow in 2014: research firm
Tablet shipments will increase this year but at a much slower pace than in 2013 as consumers remain content with the devices they already own, market ...
Reuters
Big Shift In SoC Verification
Experts at the Table, part 1: Using internal processors for verification, not just test benches, is becoming essential to getting complex SoCs out ...
Semiconductor Engineering
NXP: 'We Need to Be More Chinese'
Viewed from the outside, China often appears to be a nation full of promise, mystery, and startling contradictions. On one hand, China is the ...
EE Times
IBM China workers strike over terms in $2.3 billion Lenovo deal
More than 1,000 workers at an IBM factory in southern China have gone on strike against the terms of their transfer to Chinese PC maker Lenovo Group ...
Reuters
GaN transistors promise more light for less energy
Researchers at the Fraunhofer Institute for Applied Solid State Physics IAF in Freiburg, Germany have discovered that LED drivers using gallium ...
EE Times Europe
Quote of the Day
"Expecting the world to treat you fairly because you are a good person is a little like expecting the bull not to attack you beause you're a vegetarian."
Dennis Wholey
Test Your Knowledge
What's the Arabic answer to the Roman subtraction M minus IX?
Answer: 991
Coffee Break
The Newly Married Couple
Ninety-two year old Ephraim and ninety-one year old Emma decide to get married despite their advanced age.