September 19, 2014
Circulation Over 35,000
Test Your Knowledge
What is the name of the meeting of industrial nations in 1987 that called for the elimination of ozone-depleting substances?
See answer below.
Cartoon of the Day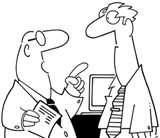 "I want you to find a bold and innovative way to do everything exactly the same way it's been done for 25 years!"
Copyright © Randy Glasbergen
Major Trends Shaping Future of IC Industry
I caught IC Insights' Bill McClean's talk at the IMAPS Arizona luncheon. In addition to predicting a steady growth trend for the semiconductor industry that will reach double digits by 2016, followed by a cyclical downturn to -1%in 2017, McClean also discussed some major trends ...
3D InCites
EDA Vendors Prepare For 7nm
It's not too early to begin looking at design tools for the 7nm, even though the node is not expected to be production-ready until later this decade. While ...
Semiconductor Engineering
How To Buy Used Fab Tools
Buying used equipment is a good way to find viable tools at reasonable prices. But the used equipment market is not a simple place to shop for good deals. ...
Semiconductor Engineering
3D IC Notes from SEMICON Taiwan 2014
I attended the 3D IC Technology Forum at SEMICON Taiwan 2014, where many of the discussions focused on the latest memory announcements in 3D ICs from ...
3D InCites
Asia-Pacific IC Usage Domination Growing
Asia-Pacific is the dominant market for ICs for most products categories. The exceptions being Europe, leading in the automotive sector, and the ...
EE Times
Optomec Signs Agreement with Multistation
Optomec announced that it has signed an agreement with Multistation SAs to be its representative in France for its LENS family of 3D Metal Printers. The versatile ...
Optomec
AI Technology, Inc (AIT) Develops Temporary Bonding Wax
As devices such as cell phones, cameras, and tablets continue to shrink, there is also a big push to shrink the "thickness" of these devices, and hence ...
AI Technology, Inc (AIT)
Graphene Market is Forecast to Reach $149.1 Million Globally by 2020
According to a new report by Allied Market Research titled, "Global Graphene Market -- Industry Analysis, Trends, Share, Opportunities and Forecast ...
Allied Market Research
Global LED Market is Expected to Reach $42.7 Billion by 2020
According to a new market research report by Allied Market Research titled, "Global Light Emitting Diode (LED) Market, 2013 - 2020" the global LED ...
Allied Market Research
Quote of the Day
"We make a living by what we get, we make a life by what we give."
Sir Winston Churchill
Test Your Knowledge
What is the name of the meeting of industrial nations in 1987 that called for the elimination of ozone-depleting substances?
Answer: Montreal Protocol