10nm Fab Watch
Analysts believe that foundry vendors will move into 10nm finFET volume production around 2017. Still others say the 10nm finFET ramp could take place anywhere from 2018 to 2020. The predictions are all over the map. One way to predict the timing, progress and demand for 10nm is simple: Follow the fabs. In fact, Intel, Samsung ...
Semiconductor Engineering
Samsung narrows gap with Intel in chip sales
Samsung Electronics Co., South Korea's top chipmaker, narrowed its gap with No. 1 global player Intel Corp. in chip sales in the first quarter of the year, data ...
Yonhap News
Apple Watch, Android Wear Updates Begin
The first update for the Apple Watch makes performance improvements across the board, while Google is finally sending Android 5.1.1 to its line of Android Wear ...
EE Times
IoT: Beyond the Hype
All the hype surrounding the Internet of Things has me worried. First of all, its my opinion that the motivation behind the IoT is not necessarily to our ...
3D InCites
Why IoT Needs 5G
When 5G, the fifth generation of wireless communications technology, arrives in 2020, engineers expect that it will be able to handle about 1000 times more ...
IEEE Spectrum
Moore's Law: What Broke the Model
In a sense Moore's Law, or at least many of the benefits it gives, ended years ago around the 90 nm node when Dennard scaling fell apart. Last month was the ...
EE Times
IP Market Shifts Direction
Semiconductor Engineering sat down to discuss intellectual property changes and challenges with Patrick Soheili, vice president of product management and ...
Semiconductor Engineering
Test Your Knowledge
When was artificial rain first used?
See answer below.
Quote of the Day
"I'm all in favor of keeping dangerous weapons out of the hands of fools. Let's start with typewriters."
Solomon Short
Calendar
Jun 1, 2015: Overview of Semiconductor Manufacturing Seminar/Dallas, TX
Jun 18, 2015: Webinar: Concentration Monitoring and Control Techniques
Jul 13, 2015: Understanding Semiconductor Technology & Business/ San Francisco, CA
Jul 14, 2015: ABCs of Basic Electronics/ San Francisco, CA
Jul 15, 2015: Solar (PV) Cell Technology/ San Francisco, CA
Jul 16, 2015: Webinar: DI-water and Low Standoff Cleaning Challenges
Aug 10, 2015: Failure and Yield Analysis Short Course (San Jose)
Cartoon of the Day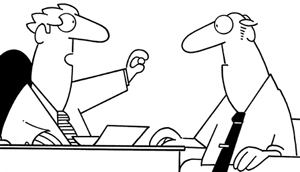 "If a stock goes sour and leaves a bad taste in your mouth, try one of these - they're InvestMints!"
Copyright © Randy Glasbergen
Test Your Knowledge Answer
Artificial rain was first used near Concord, New Hampshire, in 1947 to fight a forest fire.