August 22, 2014
Circulation Over 35,000
Test Your Knowledge
If an object is hastate what shape is it?
See answer below.
Cartoon of the Day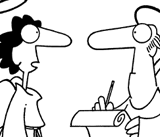 "The last thing I remember, I was sitting in a staff meeting. Apparently, I died from boredom."
Copyright © Randy Glasbergen
SEMI Posts July 2014 Book-to-Bill Ratio of 1.07
North America-based manufacturers of semiconductor equipment posted $1.41 billion in orders worldwide in July 2014 and a book-to-bill ratio of 1.07 , according to the July EMDS Book-to-Bill Report published today by SEMI. A book-to-bill of 1.07 ...
SEMI
Infineon Buys International Rectifier
Infineon Technologies will buy California-based International Rectifier for about $3 billion in cash, in a move described as the German ...
EE Times
Ready To Pounce
A series of inflection points at 16/14nm and beyond is having a rather unusual effect on the semiconductor industry. Rather than forge ...
Semiconductor Engineering
Not Invented Here Syndrome
Recently I have made some choices on IP I needed to re-use and some I decided not to re-use. This got me thinking about the general topic ...
Semiconductor Engineering
Future Growth Facing the Consumer Electronics Industry
Electronics manufacturing is shifting in a direction that responds to the latest trends in purchasing and using consumer electronics. Entertainment ...
EBN
Analyst: Intel Should Buy An ARM Chip Company
According to RBC Capital Markets analyst Doug Freedman, Intel's current mobile strategy isnt working, since most OEMs and device customers ...
Tom's Hardware Guide
Infineon denies paying too much for International Rectifier
Infineon brushed off concern that it was spending too much to buy U.S.-based International Rectifier, saying the deal promised a wealth of ...
Reuters
Japanese lab creates new GaN substrate
Fukuda Crystal Laboratory, based in Sendai, Japan, has created 2inch-diameter samples of ScAlMgO4 crystal, also known as SCAM. The idea is ...
Compound Semiconductor
When To Virtualize, When To Stay In The Real World
Virtualization is all the craze these days. People have virtual personas on LinkedIn, Facebook and Match. I sent my daughter to a Minecraft ...
Semiconductor Engineering
NoC Technology: Saving the Planet, One Chip at a Time
In Silicon Valley, the cliché is that we are using technology to change the world in some meaningful way. However, I made some calculations ...
Semiconductor Engineering
Transaction Debug
SoC design is complex. It involves both software and hardware design that calls for a higher level of abstraction to ensure accurate verification ...
Semiconductor Engineering
Microsoft Counters Google Chromebook
Microsoft is gearing up in its fight to bring Windows to the lower end of the laptop market. The company earlier announced it would sell ...
EE Times
China Wants to Be No. 1
China has an ambitious goal to ramp up its production of semiconductors, becoming a major factor in the global supply chain with smartphones ...
EE Times
Taiwan IC packaging, testing output may rise over 5% in Q3
The output value of Taiwan's integrated circuit (IC) packaging and testing sector could rise more than 5 percent in the third quarter ...
Focus Taiwan
Samsung's system chips remain dull amid competition
South Korea's tech behemoth, Samsung Electronics Co., has fallen further behind in the system semiconductor market in the second quarter, ...
Yonhap News
Aug 21, 2014 - Technical Study: Cleaning Bottom Termination Components
Sep 3, 2014 - Semiconductor Reliability Short Course (San Jose)
Sep 8, 2014 - Failure and Yield Analysis Short Course (San Jose)
Sep 9, 2014 - PCB Cleaning and Reliability Workshop in Guadalajara, MX
Sep 10, 2014 - MTA Boston & iMAPS New England Joint Meeting and Plant Tour
Sep 15, 2014 - Understanding Semiconductor Technology & Business
Sep 16, 2014 - Assembly, Cleaning, Coating, and Reliability Workshop
Quote of the Day
"The worst day of fishing beats the best day of working."
Anonymous
Test Your Knowledge
If an object is hastate what shape is it?
Answer: Triangular
Coffee Break
How Many Men Have You Been With?
Effie after all these years of marriage, there's one thing I've always wondered. How many different men have you been with?