October 20, 2014
Circulation Over 35,000
Test Your Knowledge
What is Canada's highest mountain?
See answer below.
Cartoon of the Day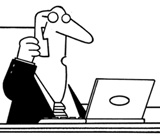 "Can you check my calendar and see if I'm scheduled to give a damn today?"
Copyright © Randy Glasbergen
IBM to Pay Globalfoundries $1.5 Billion to Take Chip Unit
IBM Corp said it would hive off its loss-making semiconductor unit to contract-chipmaker Globalfoundries Inc to focus on cloud computing and big data analytics. IBM will pay Globalfoundries $1.5 billion in cash over the next three years to take the chip operations off its hands ...
Reuters
Apple Debuts Next-Gen Tablets, PC
As had been expected, Apple released updates to its iPad, PC, and operating systems during a live event. The iPad Air 2, iPad Mini 3, iMac, and Apple Mini ...
EE Times
Big Data In The Fab
A modern fab is a very complicated place, with a huge amount of information required to correctly process wafers. But even more data is created to characterize ...
Semiconductor Engineering
DDR Memory Testing Using Interposers
If you're a PCB layout designer, you've probably heard one or more test engineers complain, "Why can't you lay out the board so that it can be tested?" All ...
EE Times
European chipmakers Fighting back
Nestled in the foothills of the French Alps, Grenoble feels more like a skiing base camp than the centre of one of Europe's hottest technology clusters. ...
The Economist
TSMC Capex to Exceed $10B in FinFET Ramp-Up
Taiwan Semiconductor Manufacturing Co. said that it aims to increase its capital expenditures next year to more than US$10 billion as it accelerates its ramp-up ...
EE Times
Indium Corporation's Mackie Honored by IMAPS
Indium Corporation's Andy C. Mackie, PhD, MSc, senior product manager for semiconductor and advanced assembly materials, was presented with the 2014 ...
Indium Corporation
MNBS 2014: from R&D to innovation
Yole Finance, the corporate finance services unit of Yole Développement collaborates with the European Commission and the Laboratory for Analysis ...
Yole Développement
Quote of the Day
"Knowledge speaks, but wisdom listens."
Jimi Hendrix
Test Your Knowledge
What is Canada's highest mountain?
Answer: Mount Logan