August 29, 2014
Circulation Over 35,000
Test Your Knowledge
What did Wilhelm Roentgen discover in 1895?
See answer below.
Cartoon of the Day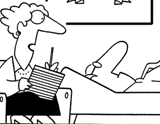 "Laying off thousands of people and slashing the budget to the bare bones is one way to relieve tension. There's also racquetball."
Copyright © Randy Glasbergen
Will 2.5D & 3D Stacking Save Semiconductor Industry?
Year's ago, when I was managing editor of Advanced Packaging Magazine, each January issue featured an industry forecast cover story. For several years in a row, that issue predicted advanced packaging would be the key to improved performance at lower power ...
3D InCites
Production schedules at 12-inch fabs begin to loosen
While most 8-inch fabs of major foundries are expected to run at full capacity until the end of 2014, production schedules at 12-inch fabs ...
Digitimes
Server Shipments Market Grew 1.3% While Revenue Increased 2.8%
In the second quarter of 2014, worldwide server shipments grew 1.3 percent year-over-year, while revenue moved upward 2.8 percent from ...
Gartner
How To Program A Quantum Computer
Quantum computers have captured the attention of the computer science world because they are faster than classical computers for some problems ...
Semiconductor Engineering
New iPhones expected at Sept. 9 Apple event
Apple Inc invited media to a "special event" in its hometown of Cupertino, California, on Sept. 9, when the iPhone maker is expected ...
Reuters
UMC, Fujitsu to work on chip production together
The board of directors of Taiwan's United Microelectronics Corp. (UMC), the world's No. 3 contract chipmaker, approved a plan to form a chip ...
The China Post
Chipmaker CSR rejects Microchip approach, shares soar
Britain's CSR has rebuffed an approach from Microchip Technology, saying that the undisclosed price proposed by Microchip was not enough ...
Reuters
Materials other than silicon for next generation electronic devices
In the consumer electronics industry, the mantra for innovation is higher device performance/less power. Arun Thathachary, a Ph.D. student ...
Nanowerk
Samsung unveils smartwatch that can make calls
Samsung Electronics Co Ltd unveiled what it said was the first smartwatch capable of making and receiving calls without a mobile phone ...
Reuters
Two Chinese firms among potential bidders for STATS ChipPac
Two Chinese firms are among companies which have approached STATS ChipPAC Ltd about acquiring it, the Singapore provider of technology ...
Reuters
IBM launches Watson system for research, hopes for breakthroughs
International Business Machines Corp on Wednesday launched a computer system that can quickly identify patterns in massive amounts of data ...
Reuters
Apple Preps Jumbo iPad
Apple is preparing a larger version of its iPad for release in 2015. The company remains bullish on the tablet market, despite a dip in shipments ...
EE Times
Apple's iPhone 6: What to expect
It's late August, so that means next-generation iPhone hype is once again peaking. Apple has a press event scheduled for September 9, ...
EDN
Sep 3, 2014 - Semiconductor Reliability Short Course (San Jose)
Sep 8, 2014 - Failure and Yield Analysis Short Course (San Jose)
Sep 9, 2014 - PCB Cleaning and Reliability Workshop in Guadalajara, MX
Sep 10, 2014 - SMTA Boston & iMAPS New England Joint Meeting and Plant Tour
Sep 15, 2014 - Understanding Semiconductor Technology & Business
Sep 16, 2014 - Assembly, Cleaning, Coating, and Reliability Workshop
Sep 16, 2014 - Failure Analysis of Electronics Course
Quote of the Day
"Nothing exists except atoms and empty space; everything else is opinion."
Democritus
Test Your Knowledge
What did Wilhelm Roentgen discover in 1895?
Answer: X-ray
Coffee Break
Here's a Riddle for Ya
How about if I try a little riddle on you. My mother and father had a baby and it's not my brother and it's not my sister, who is it?