August 1, 2014
Circulation Over 35,000
Test Your Knowledge
Which one of the following is not a symbol in the Periodic Table of Elements: H, I, K, G
See answer below.
Six Flags Over Texas
Amusement park lovers "head for the thrills" as Six Flags Over Texas, the first park in the Six Flags chain, opens. Located on 212 acres in Arlington, Texas, the park was the first to feature log flume and mine train rides and 360-degree looping roller coaster.
The day was August 1, but what year was it?
Cartoon of the Day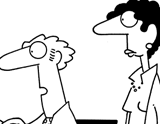 "I was told to keep my presentation interesting. How do you program a projector to explode?"
Copyright © Randy Glasbergen
EUV Is Key To 450mm Wafers
Whether the wafers in question are 200 mm in diameter, or 300 mm, or potentially 450 mm, larger wafer sizes have always been justified by manufacturing economics. If the cost to process a wafer stays the same, but the wafer contains more devices, then the cost ...
Semiconductor Engineering
Aug 21, 2014 - Technical Study: Cleaning Bottom Termination Components
Sep 3, 2014 - Semiconductor Reliability Short Course (San Jose)
Sep 8, 2014 - Failure and Yield Analysis Short Course (San Jose)
Sep 9, 2014 - PCB Cleaning and Reliability Workshop in Guadalajara, MX
Sep 15, 2014 - Understanding Semiconductor Technology & Business
Sep 16, 2014 - Assembly, Cleaning, Coating, and Reliability Workshop
Sep 16, 2014 - 'Human Error Prevention' Seminar
Quote of the Day
"Give me a stock clerk with a goal and I'll give you a man who will make history. Give me a man with no goals and I'll give you a stock clerk."
J.C.Penney
Test Your Knowledge
Which one of the following is not a symbol in the Periodic Table of Elements: H, I, K, G
Answer: G
Coffee Break
A Trip to the Movies
As today's action packed drama begins, Eephus want to see a movie with his pet rooster.